It's Saturday at midnight in the bar and I'm out with the girls enjoying a 90's cover band and some ice-cold beer.  The 90's is my favorite decade, and every song brings back memories of high school and college, in such a good way.  I felt nineteen again, and although I wasn't drunk on alcohol, I was definitely drunk on memories and music.
You know that feeling, when all your favorite tunes are being played and your body has an almost involuntary reaction.  It becomes this sort of instinct and rhythm combined.  My nineteen year-old self was really into rock music.  Imagine some air guitar, arms in the air, hair being thrown in every direction, and a complete and total disregard for the other bar patrons around me, other than my friends.  It was just me, the band, my girls and the music.
Now picture a middle-aged woman, married with two kids, who drives the weekly car pool and volunteers in the PTA, throwing her long hair and rocking out to Alice In Chains, Metallica and Nirvana.  The dance floor wasn't overly full, so I stood out.   I think at one point I might have screamed, "I'm with the band!"  Except, I'm not with the band.
Good times.
It was so fun, and in the moment I had no regrets.  It was a great night.  I mean seriously, when anyone plays Enter Sandman by Metallica, you throw your hair to that shit.  It's just how it's done.  I think the point where I really peaked and just let my shit go all over the dance floor was when the band played Man in the Box, by Alice In Chains.  One of my favorite songs, and when I became aware of my environment toward the end of the song, there were a few dudes thrashing next to me, so I guess it was good.
Except, in the light of day, when I woke up with a very stiff neck and a screaming headache, I had a moment of thought that said, you-are-too-fucking-old-to-act-like-you-belong-in-a- White-Snake-video-and-oh-my-God-you-are-such-an-asshole!  I woke up embarrassed.  I know we all like to pretend that we don't care what other people think, but the truth for most of us is that to a small degree, we do.
I'm a person who typically embraces the immediacy of a good time and enjoys being in the moment with my friends.  We've been at weddings where Dan and I are the only ones on the dance floor, while the other couples are engaged in far more dignified conversation and interactions.  Not shaking their asses to Baby Got Back.  I always look back later and self-consciously think, damn, did we take that one too far?  Shouldn't we be past this sort of behavior yet?  So Sunday morning, as I reviewed the events of the previous night, I thought to my self, are you honestly going to be the crazy lady that loses her shit every time someone plays some AC/DC?
Fast forward a few hours, and Dan and I are in attendance at a lovely baby shower/brunch for our dear friends who will soon welcome twin boys into the world.  After a brief cocktail hour, where a few mimosa's were going a long way to soothe my misplaced embarrassment, the father-to-be takes up the microphone and begins to welcome his family and friends to this celebration of babies, and also discuss some important events of the past nine months.  He said shortly after they discovered they were pregnant, he received a call from his doctor and learned he had Hodgkin's Lymphoma.
He said he spoke with one doctor who gave him "good odds" with a 60% chance of survivability.  He decided that wasn't good enough, so he fired that doctor and got another one who told him with 100% certainty that he would live through this cancer.  That he could beat it.  And he did.  Over the past nine months, he fought his cancer while his beautiful wife managed a complicated pregnancy with unbelievable grace and strength.  They kept the cancer diagnosis to themselves, for the most part, telling only a few people.  Dan and I found out about a week ago, after he finished his last chemo and was able to share the good news with everyone that he was cancer free.  We were all so grateful for his outcome, and we celebrated his health as much as we celebrated the babies!
A short while later there was a moment during the party and the DJ was playing some great dance music.  There wasn't a dance floor, just good music playing to keep the party lively.  Dan and I were sitting by the bar and the father-to-be, along with another friend began an impromptu dance-off in the space next to us.  Then the grand-father joined in, and these three grown men began taking it to town in front of everyone.  It was crazy and awesome and hilarious and I started to cry a little.  I was actually laughing first, and then found the emotion behind the laughter.
Here he is, grateful to be alive, lucky to have two beautiful babies on the way, and he wasn't embarrassed by his super sweet dance moves.  He wasn't concerned about what anyone thought of him, or whether or not he looked silly.  All three men were simply enjoying the moment, making the most of the mood and the occasion and the love.  It was quite simply the most amazing celebration of life I've seen in a long time.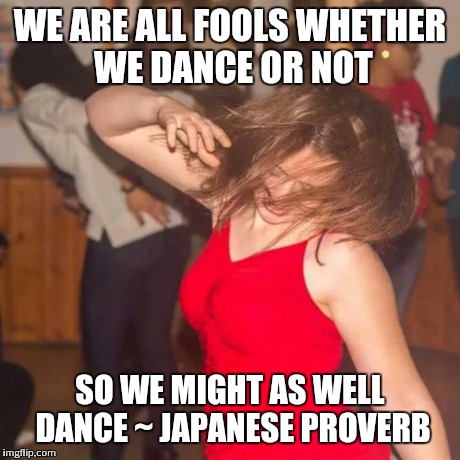 I found my perspective and some unnecessary but welcome validation in that moment.   The truth is that I AM the mom and friend who will dance in the bar, or in my living room with my kids.  I AM the person who sings at the top of my lungs when the song is good and the company is better.  I AM the person who isn't afraid to live in the moment and  doesn't care what strangers think because my life is not about them or what they may or may not think of my Saturday night amateur rock show performance.  I'm done feeling insecure about this, and as we all know, insecurity is an asshole, and we do not choose to be friends with assholes!
So when I ask myself  if I'm really going to be that middle-aged mom who loses my shit every time my jam comes on?
Well, this isn't me, but you get the idea!